I have now finished writing up my 100 words for the player characters of my new HeroQuest game. I am quite pleased with them as it has taken me a while to capture their
characters
. I will be using the 100 words to get most of their abilities as I will just use the keywords of rank as a broad ability rather than break them down into lots of related abilities.
'We are the Boys…'
by Darran Sims narrated by Darran Sims.
HeroQuest adventure for 6 players.
Newcomers very welcome. Maturity preferred.
It is the dark summer of 1940 and the storm clouds of war still hang over Europe. Nazi Germany is poised to do Hitler's bidding and invade this green and pleasant land. The Local Defence Volunteers will be the last bastion of England when the invasion comes; if they fail then the country will be under the Nazi jackboot and all freedom lost.
And where will the Nazi vanguard attack?
Walmington-on-Sea!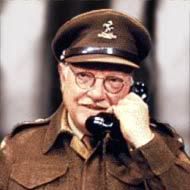 Captain George Mainwaring.
George Mainwaring is Captain of the Walmington-on-Sea platoon as well as manager of Shallows bank, Rotarian, and pillar of the community.
Considered pompous and overbearing by many, even referred to as 'Napoleon', he is a stickler for protocol. He wants things done his way but gets irritated with any hold-ups to his plans.
His wife Elizabeth constantly plagues him on the phone, he fears her more than the imminent Nazi invasion, though he will not let his men know that!
It is a bone of contention that Sergeant Wilson had the benefit of a private education though it is often Pike that gets his umbrage, "Stupid Boy!"
107 words.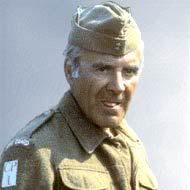 Sergeant Arthur Wilson.
A diffident, upper-class bank clerk who quietly questions Mainwaring's judgement "Do you think that's wise?" Wilson is nonetheless Mainwaring's subordinate in the bank and on parade; his suave, understated social superiority, public school education and handsome looks lead to jealousy on Mainwaring's part.
His effect on women is magnetic; he treats them with utmost courtesy and gives them his full attention. Wilson's approach to discipline is much the same. He offers his men to "kindly fall in", and when they do it is "thank you so much."
'Uncle Arthur' is beleaguered by Mavis Pike due to the perceived rough treatment of her son, Frank Pike by Mainwaring.
107 words.




Lance Corporal Jack Jones.
A veteran soldier, with many years service (and medals) to his name, Jack Jones is loaded with 'long' stories of adventure and heroism. He served with General Gordon and Lord Kitchener becoming very fond of the cold steel bayonet; "they don't like it up 'em".
Jones runs the local butchers shop and he converted his butchers van as troop transport though as the Captain says "his experience will stand us in good steak er... stead".
Loyal to the Captain he will volunteer for every mission. When things go wrong he gets in a flap "Don't Panic Mr Mainwaring!"
His ambition in life? - to marry Mrs Fox.
107 words.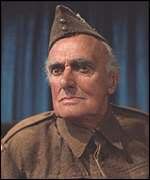 Private James Frazer.
Every town has a purveyor of calamity and gloom. Everything, according to him, will turn into a disaster "We're doomed!" As the local undertaker he sees the world through different eyes.
He spent his youth on the wild Isle of Barra off the coast of Scotland. It was a hard life. He served in the Royal Navy, reaching the position of Chief Petty Officer. He often criticises Captain Mainwaring's plans and chuffs at the bit when Jones does well.
James Frazer has a wealth of stories to tell of exotic lands with strange and supernatural happenings. The whole platoon listens in awe when Frazer spins his yarn...
107 words.




Private Joe Walker.
If you need anything from whiskey to knicker elastic, watches or even black-market weapons, Joe Walker will get them for you. "Mind you, as its war-time it will cost you, 'cos you can't get 'em". Joe is a typical cockney spiv, making his way through life ducking and diving, trying to avoid the law.
Luckily for him, he is allergic to corned beef, which invalided him out of the army.
Walker rarely deals with money, relying on the bartering system to do business, and occasionally doing a little work for 'charity'.
One of the cleverest in the platoon, others turn to him for inspiration in tricky situations.
107 words.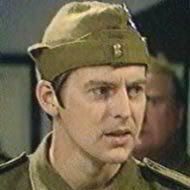 Private Frank Pike.
Private Frank Pike works in the daytime as a clerk at the bank. By far the youngest member of the platoon at 17, Frank was too young to enlist in the services, but jumped at the change of belonging to the Home Guard, much to his mother's displeasure that spread to Arthur Wilson, or Uncle Arthur, as Frank would usually address him.
He is very proud of the fact that he carries the Tommy gun. He takes it with him everywhere.
Frank Pike usually ends up volunteered in the platoon's escapades because he is the youngest, despite his protests about suffering from vertigo, croup or hay fever.
107 words.



So what do you think?