So
Con-Quest 2011
was a great success with plenty of great games running and a busy trade hall. Though numbers were down a little on last years' event due to the double bank holiday, royal wedding and sunny weather; the atmosphere was great and all the attendees were very enthusiastic.
We had a great line-up of varied games delivered by top class GMs, in our humble opinion one of the strongest game programmes we have seen at any con, and a wide selection of traders and exhibition stalls.
I, personally, enjoyed myself even with all the hard work I had to do and it was great to see everyone happy. :D
First off I would like to thank my co-organiser
Dave McAlister
, not only for his sterling work in keeping the Con-Quest website and forum ticking over, but for his patience and hard work on the day keeping everything running and covering the Bring & Buy stall for most of the day. His good humour and steadfast demeanour certainly helped me keep working on the day.
We would also like to thank the Con-Quest volunteers for their hard work in making the day a success.
Russell
, my brother, for his printing of the Con-Quest 2011 Programme Books as well as his help on the day. My Sister,
Amy
, for helping on the door and
Laura
for her help on the door and the Bring & Buy stall.
Without all the Game Masters who volunteer their time and creative energy in running some fantastic games for us, Con-Quest couldn't happen. We would like to thank them all for stepping up to the plate [Gaming Table?] and delivering some magnificent scenarios to the players.
We would especially like to thank the following GMs for the extra effort they went to present and organise their games:
Team 8
;
John Wilson
,
Sue Wilson
,
John Dodd
, and
Ash Elliott
for their great organisation and total dominance of one of the gaming rooms.
Paul Lawrence
for his
Realms of Cthulhu
games with great homemade props and game aids.
Simon Bell
for his two Traveller games that transported the player to distant realms.
Jez 'Jonny Gray's Brother' Gray
for his entertaining
Apocalypse World
double-slotter game.
All the
Pathfinder
GMs for all their organised play.
Chris Tregenza
and the
6D6
GMs for all their enthusiasm as well as running games for those players who missed the sign ups.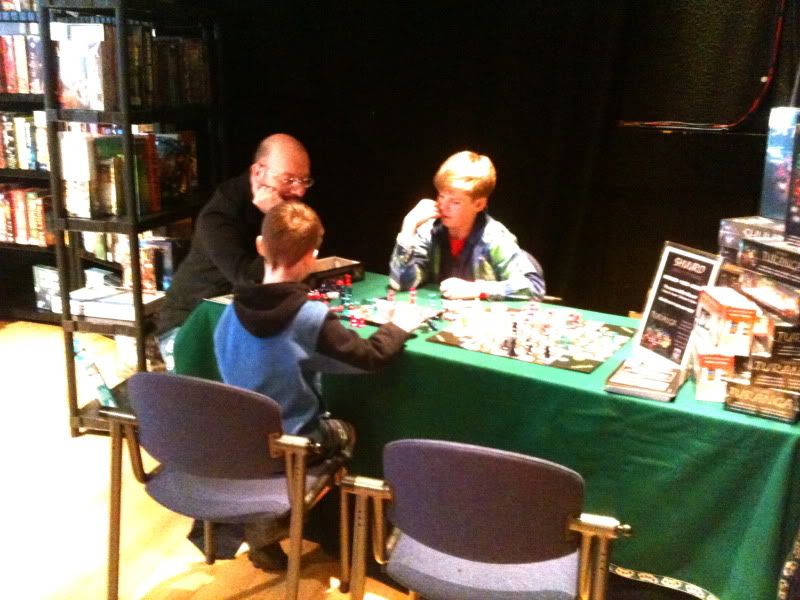 Alessio Cavatore running his Shuuro game.
Paul Lawrence GMing his game.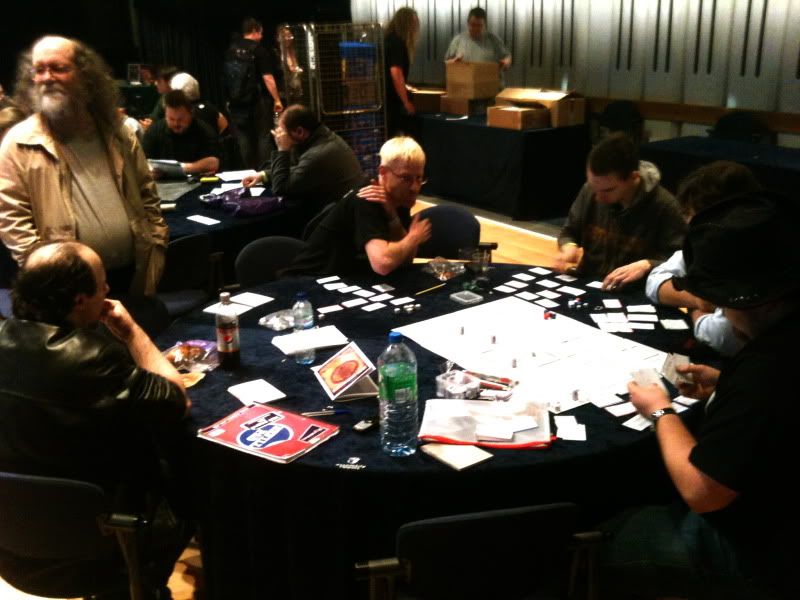 More of the 6D6 crew with Chris Tregenza.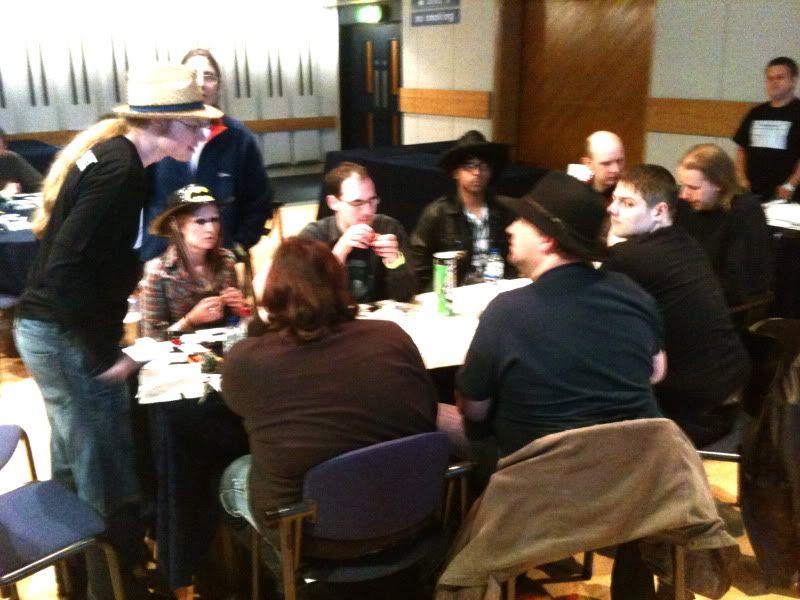 The 6D6 Crew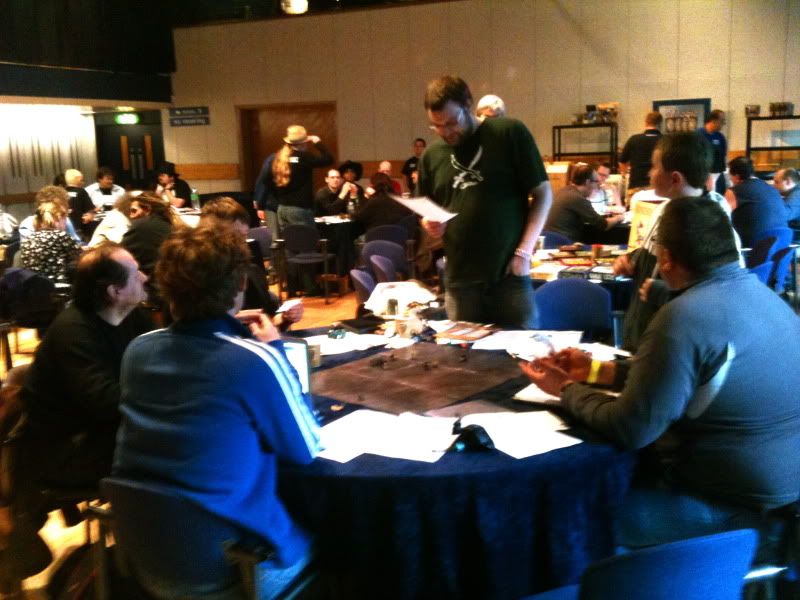 Peter Allan running his Pathfinder game.
We would like to thank all the traders and exhibition stalls/games in making the whole event such a great place to be. We will not name them all here as they were all equally superb.
I would like to thank the Brunswick Inn for hosting our Aftershow party and I would like to thank the
Derby LIVE
and
Kudos Catering
staff that were very helpful on the day.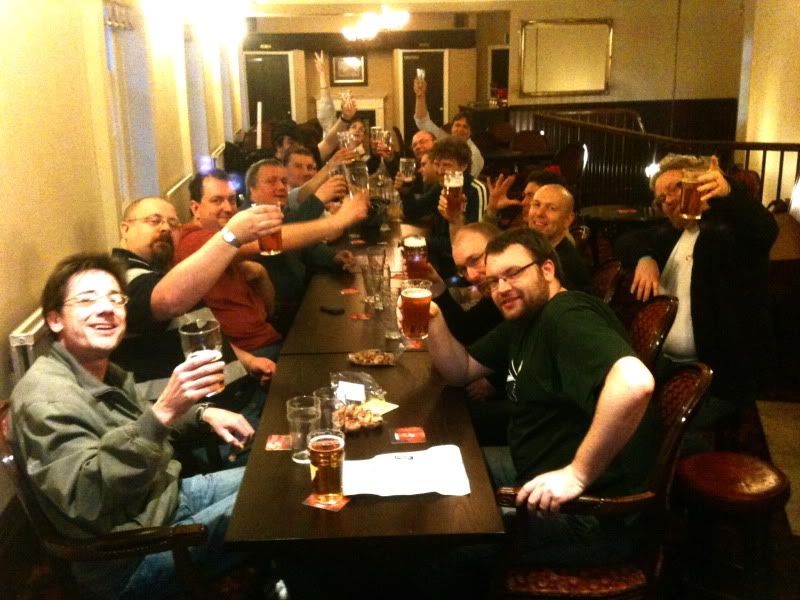 Aftershow Party in the Brunswick Inn.
And finally we would like to thank all the attendees who came to the event and played in all the games and took part in the event. Everyone was happy to be there and created such an abundant party ambience throughout the event. Your feedback on the forms we handed out will be invaluable for our next event and I will publish the results once they are collated.
Here are the feedback results from Con-Quest 2010 for those of you that are interested.
Con-Quest 2010 Feedback Results
See you all we hope in 2012!
Thank You!
Con-Quest Midlands 2012 on Saturday 14th April 2012 at the Derby Assembly Rooms