Here are the Tarsh Twins, some NPCs that appear in my 'Dark Heart of the Dragon Lands' scenario. They are annoying to the PCs though they may prove useful in passing messages.
They do bear a resemblance to some advertising icons though that is by shear coincidence, honest!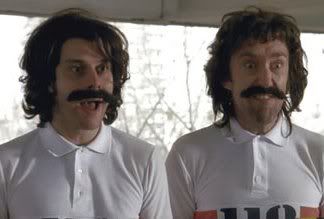 The Tarsh Twins' Story
"It is a rough road that leads to the heights of greatness."
The Tarsh Twins have always been inseparable; whatever they do they must do it together. They look so alike with their Tarshite style black moustaches and their long, shaggy, black hair. When one speaks up the other.. .. finishes the sentence. Both are long-legged and fast runners with strong fortitude and everlasting stamina. They can endure any weather to trek over vale and dale and trudge any trail always side-by-side.
They are a little imperceptive with people especially when it deals with clandestine shenanigans but when they have made that intuitive leap they shout in concert, "We've got your number!"
100 words
KeyWords
Tarshsite
Runners
Twins
Mastakos Devotees
Flaws
Imperceptive
Inseparable Twins
Useless With Clandestine Shenanigans
Personality
Intuitive Leap
Obtuse
RUNE AFFINITIES
MOVEMENT
STORM
ENDURANCE
Abilities
Black Moustaches
Endure Weather
Everlasting Stamina
Fast
Long-Legged
Long Shaggy Black Hair
Look Alike
Must Do It Together
One Speaks Up
Other Finishes
Shout
Strong Fortitude
Trek Over Vale and Dale
Trudge Trail
"We've Got Your Number!"