So I have been playing around with
ArtRage 2.5
, an excellent paint and art style programme that allows you to use actual painting and drawing techniques instead of point and click as other programmes do.
Also its price is pretty fantastic; Corel painter costs about £269.00 and Adobe PhotoShop costs £3242384931284901834918 so at $25.00 ArtRage is a very good buy.
It works with layers, its interface is simple but intuitive and the artwork looks and feels like the real thing [but without the mess and the setting up]. I have played about with the paint, chalk, airbrush, and palette knife; scribbling around like a three-year old kid.
So I had an old sketch of a Gloranthan Dark Troll I had laying about so I scanned it in and did some work on it. Just using the pencil and palette knife tools it has come out nicely with a graded shading across the whole body. There are a few parts I am not happy with but it is a bit of a learning curve. The results are below: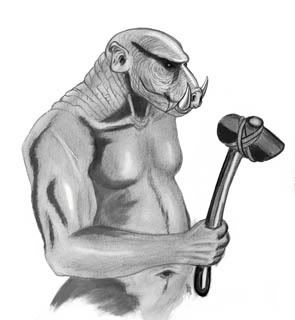 The next stage is to use the sketch to do a painting of the troll and maybe add armour and more details.
This sketch is also in the first edition of 'Hearts in Glorantha'.